A must read for Biofuel searcher..
New Release of Biofuel Secrets
..A must read for for every US voter and concerned citizen.. challenges the reader to explore new possibilities and new mindsets that will ultimately be required if the world is truly ready to make a change..
amazon.com US only
1.
http://www.guardian.co.uk/lifeandstyle/2008/dec/14/masai-tanzania-food
Africa's hungry tribe
Prices may be starting to fall in our supermarkets, but in Africa the cost of feeding a family remains terrifyingly high. Alex Renton reports from Tanzania, where the struggle to earn money for grain and the appropriation of grazing lands for tourism is driving the Masai to desperate measures

Food blog: millions of people eat it every day, yet you've probably never heard of ugali. Why?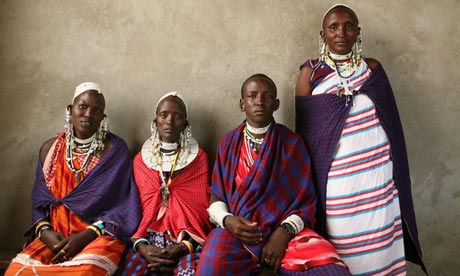 It was the best cup of tea. Nongishu Kingi made it the Masai way, in a big saucepan over the wood fire in her hut. When the water boiled, she dropped in the tea mix, added milk and stirred, and stirred. After five minutes she poured it carefully into old enamel mugs, each with a pinch from her tiny hoard of sugar. We stood outside the hut watching the cold dawn washing the slopes of the volcano, our hands warming on the mugs, breathing in the spiced steam. There's cardamom, ginger and cinnamon in East African 'masala chai', and a smoky taste from the fire. It was so good you could live on it: some people do.
In a thorn paddock in the centre of the circle of huts, protected from leopards, the goats complained. The men frowned over their condition, pinching the bones that jutted in the loose skin of their backs. Nongishu gave her three older children their breakfast. Each got a mug with the cold leftovers of last night's dinner - chewy scraps of ugali porridge, made from maize flour and a little salt. No milk. I realised too late that we, the guests, got the last of that in our tea - and there was none to be had from the goats this morning. They were all too thin and dry in this pre-rainy season to give milk, and the cattle had gone off with the young men in a search for pasture. There was no breakfast for Nongishu or her husband Lemburis: just the tea they shared with us.
Saitoti and Nawassa, 13 and 10, finished their meal in less than a minute, grabbed school bags from inside the family's hut and set off down the track towards the village. The dawn comes up fast here, and now the sun was glinting off the soda lake. The shoulders of the great volcano, Oldonyo Lengai, 'God's mountain', took on an unearthly yellow. It was early November and there had been no rain for nine months; the landscape was all black and gold, lava rubble and dead grass. Only around the crack in the rock that channelled the stream leading to Lake Natron was there any green at all.
Nongishu put on some more of her beadwork jewellery until, with four sets of earrings weighing down her stretched lobes, she looked like the jewellery carousel in a craftwork shop. This was her full regalia: beaded bracelets, anklets, necklaces and chokers in the white, blue and yellow of the Kisongo clan. Some were studded with discs of tin or silver. These were her inheritance: wedding gifts, pieces from her grandmother. All were for sale to the tourists.
On the path to the village we struggled to keep up with Nongishu. She walked with the easy, long stride that is as much a Masai trademark as their spears and their red and purple robes. When we arrived at the safari camp by the river, we found a dozen other women from the Masai hamlet had already set up under the trees by the gate, their handicrafts and heirlooms spread out on poles and blankets. Some wore the tiered bead-tiaras made for their wedding day. Nongishu groaned: the familiar truck of a budget safari company was parked inside the thorn fence that protected the camp site from animals. 'They never buy anything from us,' she said.
Nongishu had to sell something, or the family wouldn't eat that night. It was pretty much the same for the other women - there were no animals healthy enough to sell, so to put food in their children's bellies they had to sell jewellery or beg or borrow money. And though the Masai share freely among themselves, no one in the village had much money to lend at the moment. As adults, the Masai, famously, live principally on milk, blood and meat - but when the animals are too weak to provide either, they have to eat what most of sub-Saharan Africa eats: porridge made from cereals. The Masai are pastoralists, cattle herders, and they don't normally grow such things - to get maize flour for ugali they need cash.
So as the day warmed up and the light became white, the women waited patiently for the tourists to wake. They were all relatives and most bore the surname Kingi, derived from the English colonialists. Lemburis's grandfather was chief of the area of the Serengeti they used to inhabit. They left it in 1959 at the insistence of the British, to make room for wild animals and tourists. I watched the tall, elegant women lay out their jewellery and, as they talked and laughed together, I thought about history's strange turns. Once these people were royalty, perhaps the most independent and proud of Africa's pastoral peoples. Now they were hawkers and beggars, dependent on the whims of the tourists who come here, in part, to see them and their lives.
All across Africa people are hungry this winter. That's not news, but what is startling is how many more are in this state than a couple of years ago. Not just people caught up in the interminable wars of Congo and Sudan, or in Zimbabwe, or the latest of endless cyclical famines in Ethiopia and Somalia, but ordinary people in the cities and the countryside of relatively stable, healthy countries like this one,
Tanzania
. People like the Kingi clan. There are a number of pressing reasons - all of them caused by forces outside, from the developed world.
The principal problem is the global price of food staples - driven up over the past couple of years by the international oil price and the demand for biofuels. In Britain that has meant price rises of on average 15 per cent in many staple foods. But throughout Africa and other poorer countries we've seen rises much steeper - staples like rice, maize and wheat are up 136 per cent in Tanzania. And while on the global markets, and in European supermarkets, those prices have during the autumn slowly begun to decline, there has been very little shift in East Africa. In Tanzania and in Kenya in early November I found the price of maize and ugali flour was just as high as it was at its peak, a year ago.
In this cut-off area of Masailand, in Loliondo district in the far north of Tanzania, prices were higher than anywhere. A good five hours' drive from any proper road, a 25kg container of maize grains, enough to feed a family of five for a week, cost up to 10,000 Tanzanian shillings - £5. That may not sound much - but it was nearly double what it was in January. And when you can't sell your animals, or your beads, the price is meaningless. You can't afford anything.
I've travelled this year to places in Asia, the Middle East and Africa where millions of ordinary people have fallen back into poverty - taking their children out of school because they can't afford fees, starving themselves to make sure the vulnerable in their family get nourishment - not because of a lack of food, but because it has become too expensive for them to afford. Their stories make our complaints about higher supermarket bills and the need to tighten our belts look a bit petty. But the saddest thing about these encounters has been that, generally, people in these out-of-the-way places had no idea why suddenly they could no longer earn enough to feed their families: no understanding of the workings of the global commodities markets or the rich world's need to turn good food into diesel.
Not so with the Masai. They are a well-informed, well-travelled people - their young unmarried men, the morani, roam great distances. Nowadays many migrate to the cities of East Africa, where, feared and mistrusted, they get employment in their warriors' robes and spears as security guards. Everyone we spoke to around the district knew that fuel prices had forced up the price of maize: a litre of diesel being a good 25 per cent more expensive than it was in 2007. According to Oxfam, which works throughout the region on pastoralists' food supply and land rights, the traders of maize take advantage of the remoteness of the area to increase prices for all commodities.
There were other more local factors - three major disasters in three years. The cattle herd is a Masai family's bank account - and a bad run of diseases killed off much stock in the district. Two protracted dry seasons hadn't helped either. As we talked in the baked wilderness of Loliondo, with no grass to be seen, everyone knew that rain had fallen and grass had grown only 50 miles away from us, in the western Serengeti and in the Masai Mara game reserves. In the past, the Masai would have driven their animals to these places to graze. That's what nomadic pastoralists do.
But nowadays, according to Oxfam, government generally puts tourism and wildlife before pastoralists' needs. This not only undermines the herding family's ability to feed themselves, but also the very fabric of their lives and culture. A 60-year-old widow, Ndawasai Natisile, struggling to keep her family fed and the cattle alive in the drought, told me she could not imagine a life without cattle. She only had five left. 'The only thing I could do then is give my daughter to a young man and ask him to care for us.' One young mother in the Kingi village, Nayotoang Kingi, told us: 'If we have no cattle, the family will break up. I will have to go back to my parents.' Her husband Kamaika heard this and drew his red robe tight around him: 'If we have no cattle, we die.'
The biggest problems, though, lie with the volcano, Oldonyo Lengai. The holy mountain of the Masai seems to dominate everything in this wild place. When it exploded at the beginning of the year the displacement of the people fleeing it also disrupted the food supply. While the Tanzanian government sent food aid, it would not allow outside NGOs to respond to the disaster: the government delays declarations of emergency because it does not like the tourists to see humanitarian-aid lorries thundering around. The mountain's moods have always played a part in Masai life - but now it has a new, more dangerous power: it attracts tourists.
And there lies the root of the troubles of the Loliondo Masai. Encouraged by the foreign aid donors, Tanzania has pushed its tourism sector hard. It has a strategy of doubling its visitor numbers in just five years, to one million per annum by 2010. Most tourists want to see wild animals, and more than half of them head north to this part of the country. Here are the most famous safari sites in the world: the Ngorongoro crater, a natural haven for 25,000 wild animals, and the great grass sea of the Serengeti. Ngorongoro alone is expected to see over 400,000 visitors this year, earning the country $30 million. It's clear that the money has not benefited the locals: in Engarasero half the children don't go to school, and 75 per cent of all female deaths occur in childbirth. The nearest hospital is two days' walk away.
But both Ngorongoro and Serengeti are already hard pressed: wild animals, mass tourism and poor pastoralists don't exist easily together. The government's strategy? Get 200,000 more tourism beds into the country, build more hotels on the Ngorongoro crater edge and extend the game parks and conservation areas. The pastoralists, long seen by central government throughout East Africa as a troublesome, uncivilised people, will have to adapt or move.
There is a sad irony here. The Masai are the African people most associated with animals in the wild, fabled for their symbiotic relationship with the great beasts and the vast migrating herds. They are a major part of the tourist experience: but you cannot help but conclude that tourism has never been good news for them. Throughout the 60-year history of game parks in East Africa, it is the indigenous humans who have had to make room.
Now the Tanzanian government has ordered 2,000 Masai families to leave the Ngorongoro crater area, saying they have no legal right to be there. Some evictions have already begun. The people have been offered land far away, up on the Kenyan border. Other communities in the conservation area have been told to stop farming - only pastoralism is allowed in the area. That has played a significant part in raising food prices. Sarupe Leoilekan, the government-appointed 'executive officer' of the village, told us that when maize was being grown nearby the price had been a third of what it was now. 'If it wasn't for the bead sellers people would be dying here.'
Other land on the fringes of the parks that is traditionally Masai grazing is being taken piecemeal and handed to safari companies and hunting enterprises. On a recent visit, the President of Tanzania himself announced that he wants to take the lands around Oldonyo Lengai and make them part of the existing conservation area - a move backed by the World Wildlife Fund and the big conservation NGOs. The announcement has horrified all the Masai, who believe that the 1958 agreement with the British granted them the right to live in Ngorongoro in perpetuity, in return for giving up the Serengeti. As Emburis Kingi told us, cuddling his two-year-old son:
'My grandfather was evicted from the Serengeti and he went to Ngorongoro in 1959. My father was evicted from Ngorongoro in 1974 and we came here. I will not move from here. I would rather die.'
The tourists were still asleep in their tents. They had spent the night climbing the volcano, coming home at dawn. We all waited impatiently for them to reappear, chatting with the camp manager, an elderly Masai from Kenya. He told us how much better things are for his people there - they have rights to the land. Here the district council doesn't even give the village its official share of the gate receipts it collects from visitors in a little booth on the main road. And the bridge there has been down for a year. A new road had been planned to the district - but then cancelled for fear of disrupting the animals.
Eventually a tent door opened. A young Frenchman, Anthony Pohu, came out yawning. A policeman from a town near Paris, he was on a two-week package round Northern Tanzania - the Serengeti, Ngorongoro Crater, Mount Kilimanjaro and this place, to climb the mountain. It cost him €3,000.
So would he buy any jewellery from the mothers waiting outside the gate? 'I had a look. It's cheap. But it's not great quality compared with what I saw in Arusha town. That was more artisanal.' They need your money, I say gently. They haven't got anything to eat tonight. 'Yes? Well, maybe they'd better learn to bargain better.' He laughed. Another French couple said they didn't like the way the Masai women all stand in a line pleading with them to buy. 'It's not pleasant - it's demeaning for them and us. And we don't like to intervene in their culture - we don't want to leave our footprint in this place.'
By one o'clock, 32 Masai women were gathered at the camp gate, and they'd seen only two tourists. After long haggling those had bought a couple of dollars' worth of trinkets. But not from Nongishu. Emburis, her husband, was waiting patiently under a tree to see if she could earn any money. He told me that last time they were very short of cash and needed medicine to treat Nongishu's malaria they sold one of their three cows, for 50,000 shillings (about £25). But the animals' condition now was so poor they would fetch virtually nothing. He had lost all his cattle in the big drought of 2005-2006, and had only managed to acquire more because Oxfam gave the family some she-goats, on the condition that their first offspring were passed on to other families.
In the end, we bought beads from Nongishu. We spent 10,000 shillings - enough to buy that 25kg bag of maize, some greens and beans and cooking oil. Enough for a week. Her happiness as she walked with Emburis to the busy market made it feel like the best £5 I'd ever spent. In the dusty hut in the market area we found the trader from Arusha was selling sacks of wizened corn ears, full of dust and rubbish. I asked him why the price of maize was so high. 'I have to bring it all the way from Arusha, and the price of fuel,' he said, 'it's still high.' But, I said, we were just in Arusha a few days ago and we know the price of fuel has dropped. It was 2,200 shillings a litre a few months ago; now it's 1,900. He stared at me and the crowd listened in silence.
Nongishu spent another 1,000 shillings at the village mill, where a dusty old diesel engine grinds the maize into a rough flour. The husks were carefully swept up for feeding to the skinny goats. While she worked we walked up to the village's most impressive building - a concrete warehouse erected last year with the help of Oxfam. This is the grain bank - run by a committee of village elders, with a float of money to buy in grain when it's cheap and sell it when it's expensive. This should be a tool for the villagers to counter the rapaciousness of the traders and try and stabilise prices.
But Esupat Ritei, an elderly lady wearing the high Kisongo beaded tiara, who acts as the committee's treasurer, explained that the prices rose so high and so fast that their intervention in the market made little difference. Now the store, which could hold 2,000 tons, was almost empty - the committee had decided the few remaining sacks were being kept in reserve for when people were hungry. Which would soon be the case, if the rain didn't come. But the grain bank appeared to have had some effect: Nongishu bought her week's supply of maize for 7,000 shillings: two days earlier, we'd been at the weekly market in a more remote village, and there the price had been 10,000 shillings. So next year at harvest time the committee had a good reserve of funds to buy in again when the price was low.
Outside the grain bank we met Elizabeth Lemakanga with her daughter Ngola. She was a community animal-health worker, trained by Oxfam, and she came to the grain store three times a week to buy maize. Before the scheme started she had to make a 120km journey with a donkey two times a month to buy grain for her family. Elizabeth said the grain store had stabilised the price of food, and even reduced it.
We were invited to supper at the Kingi manyatta [semi-permanent village], and at sunset we went back to the circle of huts. I'd asked about blood, and the chances of it being available to drink. But there was none - the animals were in no condition to have a vein opened in the usual manner. (Up to five litres can be drained from a cow without harming it - the blood is then whisked to get clots out and mixed with milk, at three parts to one.) I wasn't so very disappointed: most people who've drunk the blood milkshake say it is just like having a bad nosebleed. Other travellers have been denied the treat: Ernest Hemingway wrote of a trip to Masailand in 1933, where he found a manyatta full of friendly people who didn't much want to drink blood with him - but were very keen to share his stores. '[The Masai] ate bread, cold mincemeat, and plum pudding with great relish and much laughter and joking,' he recounts in Green Hills of Africa.
The blood is taken from the live animal, because the Masai don't kill any of their animals unless they are irretrievably ill, or there is some pressing social or ritual reason. 'We don't eat chicken because we regard them as innocents who've been taken from the forest and domesticated by greedy men,' Samuel Nangiria, a young Masai activist told me. 'We don't eat antelope, or leopard, or any game animal, because we believe they have equal rights to live. If we must kill a cow we will lie down with it to calm it as it dies. We pray to it to forgive us, and we explain to it the reasons why we are doing this. We might say - "You are part of my life but I'm killing you because my dad is sick".'
Samuel worked for a small lobbying organisation, NgoNet, that tries to uphold Masai rights in the region. Next year, 2009, it will be 50 years since the Masai were evicted from the Serengeti - 50 years, as one old warrior put it, 'since the Masai spear was broken'. 'We're not saying no wildlife, no tourism on this land,' Samuel said. 'We're just asking for a responsible business. One that doesn't steal people's land. Or deny them the chance to earn a living. Or starve them.'
I went into Nongishu's hut to talk to her as she cooked. Over an open fire, she stewed kidney beans and fried onion. Saitoti, her son, stoked the fire with twigs - the man's role. In the dark smoky room, the cow-dung walls pressing in, we could be anywhere in history: only the little halogen torch Saitoti held to help me write notes had anything of the 21st century. Eventually the beans were ready: Nongishu served them up with a mound of white ugali, stiff and heavy as a stone. As we ate hungrily, in the twilight outside the hut the dark shape of the volcano in the sky seemed to have grown larger. Then a great dust storm swept a curtain over it. At intervals lightning stabbed the thickening darkness.
That night rain beat upon the tin roofs of the shacks we slept in. In the morning we woke up to find the skies clean and blue and the village damp: the dust had gone and everything seemed new. At the manyatta, the goats seemed to have smelt the water; the children were running in circles round the huts. The Kingi people's mood had changed. 'It is good, it has rained,' said Lemburis. It was the first time I'd seen him smile. In a week the new grass would appear. Nayotoyang, the 18-year-old wife of Kamaika, gave us a wave as we left, her fat baby grinning on her hip. 'Today,' she said in English, 'our hearts are laughing.'
• Alex Renton and Caroline Irby travelled to Tanzania with Oxfam. For more information on Oxfam's work on food and pastoralism visit
oxfam.org.uk/foodcrisis
. A £10 donation to Oxfam can feed a hungry family for a month
2.
http://newsinfo.inquirer.net/breakingnews/regions/view/20081210-177076/Jatropha-displacing-Mindanao-food-crops
Jatropha displacing Mindanao food crops
BAGUIO CITY – Indigenous women leaders from Mindanao said the expansion of jatropha plantations in Sarangani and in other provinces in Mindanao has displaced traditional food crops, which forced members of the B'laan tribe to go hungry.
In a recent commemoration of the international day for the elimination of violence against women here, Lorna Mora, a B'laan leader, said 500 hectares of agricultural land in Sarangani were used to grow jatropha, locally known as tuba-tuba and a source of biofuel.
"We cannot eat three times a day like we used to [because only a few parcels of land have been left to till]," Mora said.
Women leaders from various tribes from Mindanao, the Visayas and Luzon attended a two-day documentation project on violence against indigenous women, which was organized by Innabuyog-Gabriela, Bai (national network of indigenous women's organization in the Philippines) and Asia's Indigenous Women's Network (AIWN).
They said among crops displaced by jatropha farms are rice, corn, banana and root crops.
"The [establishment of] jatropha plantations may appeal as an immediate solution to [the] local energy [problem], but this initiative does not [consider] the social effects," Mora said.
Officials of the Department of Agriculture said the agency has started drawing up guidelines for converting farms into jatropha plantations.
Pedro Jerry Baliang, DA Cordillera assistant director, said the government does not want to compromise food security.
"We do not want to sacrifice agricultural lands," he said.
Baliang said the DA and the Department of the Environment and Natural Resources are concluding an agreement on identifying zones for jatropha.
He said they would ensure that jatropha would not encroach on rice and vegetable farmlands.
Robert Domoguen, DA Cordillera information officer, earlier said the production of jatropha threatens food production because farmers might shift to planting this if they find out that this is more lucrative.
Domoguen said the government could prevent this if it would limit areas where jatropha could be cultivated.
"Biofuel is a threat but we need it," he said.
3.
http://thestar.com.my/lifestyle/story.asp?file=/2008/12/9/lifefocus/2582208&sec=lifefocus
Tuesday December 9, 2008
Food crisis sidelined
By HILARY CHIEW
Worldwide economic fallout diverts attention from persisting desperate plight.
IN THE widening financial turmoil, the food crisis that hogged the headlines earlier this year may be pushed to the back-burner.
Despite the initial reaction of world leaders to tackle the food crisis, the worldwide downward spiral of stock exchanges has diverted their attention. There is concern that resources allocated to address food shortages may be undercut by bailout packages for troubled corporations and the financial markets.
In its latest policy brief, the United Nations Department of Economic and Social Affairs (UN-DESA) has warned that the crisis could be sidelined although it continues to pose a global humanitarian and development challenge even as food prices begin to fall.
It is generally concluded that the global food crisis is a culmination of factors: poor harvests due to drought, flooded rice fields, a decrease in agricultural land, the diversion of grains for biofuel production and escalating oil prices.
Although the price of petrol, which once pushed up the price of fertiliser and in turn the cost of food production and distribution, has dipped from its record high of US$200 (RM721) per barrel to US$50 (RM180) currently, the food crisis remains real, particularly for the poor.
In Malaysia, a group of concerned citizens has banded together to keep the spotlight on the crisis which it says affects the rural and marginalised communities most. The latter category involves vulnerable groups such as migrant workers, the disabled, elderly, single-parent families and indigenous people.
Forming the Joint Action Forum on Food Crisis (JAFFC), the group, spearheaded by social movement Aliran Kesedaran Negara (Aliran), hopes to inform parliamentarians of the effect of food crisis on their constituents, and suggests people-oriented solutions to the problem.
Recently, it held a one-day forum which gathered 120 participants, half of them grassroot communities and leaders. Stories of hunger, malnutrition and reduced purchasing power linked to rocketing food prices were shared.
A single mother with two children from Selayang, Selangor, told the forum that she can only afford the inferior quality rice and had been foregoing fish and chicken.
Another participant, a migrant worker from Bangladesh who is embroiled in a legal tussle over unpaid salary with his former employer and thus forbade from being employed by the law, said he skipped meals to lessen the burden on his fellow countrymen.
Opening the forum, UN acting resident coordinator for Malaysia Youssouf Oomar said Malaysia is not insulated from high global prices although it had benefited significantly from the surge in global commodity prices, in particular palm oil and rubber, since 2005.
"The country's high dependence on food imports, for example, has translated into higher food costs for a large proportion of the population, particularly the urban poor and those in rural areas who are net purchasers of food.
"In the past, consumer price increases were offset by Government subsidies and price controls. The joint pressures of a food and energy price increase are already evident in costlier subsidies and import bills."
Root cause
According to many social analysts, the food crisis is a product of unbridled globalisation policies that went awry.
In
The Global Food Crisis: Hype and Reality
, economist Rosario Bella Guzman says globalisation first came in the scheme of the Green Revolution in the 1970s where Third World countries were told to use high-yield varieties to increase productivity – which turned out to be "high-input varieties" since they increased the farmers' usage of pesticides and fertilisers peddled by agro-chemical transnational corporations (TNCs).
The publication by the Pesticide Action Network Asia and the Pacific (PAN-AP) and People's Coalition on Food Sovereignty (PCFS), further pointed out that productivity no doubt increased but it was at the expense of sustainability, with degraded soil fertility and a polluted environment due to heavy dependence on agro-chemicals that was the hallmark of the so-called revolution.
While profit of agro-chemical TNCs soared, farmers in developing countries were saddled with debts. To settle the debts, these countries were forced to open up the traditional sector to cheaper foreign agro-produce and capitals which favoured high-value or export crops that prioritised profits rather than local food needs.
Furthermore, while food shortages are happening in poor countries, giant agri-businesses and grain traders have increased their profits.
An important factor in the under-development of the agriculture sector in developing countries is linked to land ownership where landlessness remains prevalent and has worsened, with vast tracts of land still in the hands of landlords and corporations.
"According to the UN Hunger Task Force, 20% of the world's hungry are direct agricultural producers who do not have their own land," says Guzman, the executive editor of IBON Foundation Inc, an independent development institution based in the Philippines.
Over the last 40 years, 105 of 149 Third World countries have become net food importers, the number of rural poor (earning US$1 or RM3.60 a day) has remained at 2.6 billion and small farmers now comprise 80% of the world's 845 million hungry, reports Guzman.
No protection
AS A son of a rice farmer in Kedah, the rice bowl of Malaysia, Aziz Man will be the first to tell you that there's something not right with the country's rice production.
A retired serviceman, the 59-year-old Kedahan said although rice was cultivated twice a year in the famed Kuala Muda plains, the largely agrarian society remains the fourth poorest in the country.
"Rice in the field is cheap but rice in the shop is expensive," he said, pointing out the irony that while farmers do not get a good price for their harvest, their produce fetches a high price once gets to the shops.
The president of United Rural Citizens Association of Kedah said that over the years, the emphasis on food production has waned partly because of the authorities' issuance of approved permits (APs) for the importing of rice.
"Rice production has been neglected," he said. Aziz added that to supplement their income, padi farmers go to sea to fish. He reckoned the agriculture department could help boost food production and raise the living standard of the poor farmers if incentives are provided for the development of other economic activities like bee farming and freshwater fish cultivation that utilised submerged rice fields.
Another group of food producers, inshore fishermen, lament the lack of protection of fertile fishing grounds amid increasing focus on deep-sea fishing and aquaculture development.
Peninsular Inshore Fishermen Action Network (Jaring) president Jamaluddin Muhammad said traditional fisheries that had been sustainable all these years are collapsing around the country as the destruction of mangrove forests and uncontrolled trawling operations carried on unabated, threatening not only marine health and the livelihood of fishermen, but also a vital food security component – protein from sea produce.
4.
http://www.worldtribune.com/worldtribune/WTARC/2008/me_gulf0777_12_08.asp
Monday, December 8, 2008
Non food-producing states in Gulf face shortages
ABU DHABI — The Persian Gulf states have expressed concern over food shortages amongh their six member states of the Gulf Cooperation Council.

Officials said the GCC has been assessing the prospect of a food crisis and shortage in 2009, Middle East Newsline reported. They said food shortages throughout North Africa and Asia could result in countries reducing exports to ensure that their nationals are fed.
"Food is becoming a more scarce commodity and with greater demand there could be serious shortages, especially in countries that do not produce food," an official said.
The GCC convened a seminar to prepare for any food shortage in 2009. GCC representatives agreed to establish an independent body to monitor and recommend policy to avoid a food crisis.
"There should be a unified purchasing policy for essential foodstuff such as rice, wheat, sugar, oil, seeds, milk, and meat," a statement by the seminar read. "This would suit the policy of free competition and also not contradict the interests of the private sector."
The seminar urged GCC states to share food resources, similar to efforts to form a power and water grid. Representatives attributed the food shortage to the rising use of grain to produce biofuel.
Other recommendations included the establishment of companies to invest in producing in GCC states. Officials said these companies would also ensure the import of sufficient food supplies to form a strategic reserve.
The seminar also called for the increase in resources for veterinary and insecticides services. Officials said GCC states must increase their scientific capability to establish a viable agricultural sector.
[Ends]
---
Take your friends with you with Mobile Messenger.
Click Here!
__._,_.___
__,_._,___