A must read for Biofuel searcher..
New Release of Biofuel Secrets
..A must read for for every US voter and concerned citizen.. challenges the reader to explore new possibilities and new mindsets that will ultimately be required if the world is truly ready to make a change..
amazon.com US only
Hat tip to ApeAlliance for these.
1. Climate Activists call on Obama to stop Indonesian Deforestation
by Takver - Climate Indymedia
Thursday Nov 12th, 2009 10:07 AM
Greenpeace and Indigenous Climate activists in Indonesia have
unfurled a 20 metre by 30 metre banner protesting Deforestation which
said 'Obama you can stop this' calling on President Obama to take a
leadership role in climate negotiations in Copenhagen in December and
at APEC in Singapore this weekend.
To view photo, go to:
http://www.indybay.org/newsitems/2009/11/12/18628447.php
Photo: Copyright Greenpeace / John Novis and published according to
the Greenpeace copyright policy for educational use.
Previous Story: Climate Defenders Camp established to preserve
Indonesian Rainforest Peatlands
<
http://www.indybay.org/newsitems/2009/11/03/18627666.php
>
Activists from a Climate Camp in the forests of Indonesia have taken
direct action locking down earrthmoving and logging equipment. The
site on the Kampar Peninsula of the island of Sumatra is being logged
and cleared by Asia Pacific Resources International Holding Ltd
(APRIL), one of the largest pulp and paper companies in Indonesia, to
make way for tree plantations, grown for pulp and paper. One group of
activists unfurled a 20metre by 30 metre banner which said 'Obama you
can stop this' appealing for hm to take a leadership role in Climate
Negotiations at COP15 Copenhagen in December, and to also raise it at
the APEC heads of Government meeting in Singapore 14-15 November. All
the activists have been detained by Police.
Global deforestation is responsible for about a fifth of global
greenhouse gas emissions. While the banner was being deployed other
activists locked onto the heavy excavators owned APRIL.
Greenpeace earlier released fresh evidence of APRIL conducting forest
clearing and peat drainage in this area. Greenpeace claims there are
strong indications that the peat is deeper than three meters - illegal
to drain under Indonesian law - despite APRIL's statements that it has
ceased operations in the peninsula.
This evidence was presented to a public meeting held by APRIL in the
region capital of Pekanbaru. According to Greenpeace APRIL stated
<
http://weblog.greenpeace.org/climate/2009/11/fresh_evidence_of_land_clearan.html
>
that they had yet to begin active clearing in the area of the Kampar
peninsula.
It has been reported that Finnish paper giant UPM-Kymmene has decided
to discontinue its contract with APRIL arising from a WWF Finland
campaign. UPM-Kymmene is featured in Nordic Carbon Disclosure
Leadership Index (CDLI 2009 Nordic) and has taken proactive action to
reduce green house emissions from its plants. A 1998 report by
independent auditors SGS referred directly to UPM-Kymmene and said
"APRIL would not be able to undertake its destructive activities
without this market support. These companies must therefore accept
partial responsibility for supporting the catastrophic damage that has
occurred in recent years to Indonesia's forests." (World Rainforest
Movement bulletin Nº 55, February 2002.
<
http://www.wrm.org.uy/bulletin/55/Indonesia.html
>)
The soils on the Kampar Peninsular store about 2 billion tonnes of
carbon in swampy peatland forests and mangroves. Much of the forest on
the peninsular has already been destroyed to make way for palm
pantations and industrial tree plantations for the pulp and paper
industry. APRIL claims it want to protect the Kampar Peninsular with a
REDD project - a "plantation ring" around the Kampar Peninsula offers
the most viable management option." says APIL's website
<
http://www.aprilasia.com//index.php?/content/view/57/89/
>.
A report released in October, 2009 by Reduced emissions from
deforestation and degradation (REDD) - Indonesia: indigenous peoples
and the Kampar Peninsular
<
http://www.redd-monitor.org/wordpress/wp-content/uploads/2009/10/Indonesia_rights_briefing_oct09_low_res_eng.pdf
>
- has found that APRIL has ignored the views of local people on the
Kampar Peninsular, including basic information about the project.
A survey and workshops were done with indigenous communities in May
2009 which found "None of the communities had been given clear
information about the project, no efforts had been made by the company
to assess communities' land use systems or customary rights, no
measures had been taken to identify their representative
organisations, and no negotiations had been undertaken to secure their
agreement to the proposed project.". The report concludes
"Alternatives that exclude local people will neither be sustainable
nor just, and risk provoking further conflicts over land." More
Information from REDD in Indonesia - Indonesia: Communities reject
APRIL's REDD plans on the Kampar Peninsular
<
http://redd-indonesia.org/en/news-room/detail-news/read/indonesia-communities-reject-aprils-redd-plans-on-the-kampar-peninsular/
>.
Peat is said to account for 50% of Indonesia's carbon emissions as a
result of drainage, degradation, oxidation and/or burning. Stopping
deforestation and drainage of swamplands would help reduce Indonesia's
carbon emissions drastically and would contribute greatly to meeting
the President of Indonesia's declared target of 26% emission
reductions by 2020.
Related: Climate Defenders Camp established to preserve Indonesian
Rainforest Peatlands
<
http://www.indybay.org/newsitems/2009/11/03/18627666.php
>
| Photoset of Direct Action
<
http://www.flickr.com/photos/greenpeaceinternational/sets/72157622663878445/
>
| APRIL watch Blog <
http://aprilwatch.blogspot.com/
>
| Pulpmill watch <
http://www.pulpmillwatch.org/countries/indonesia/
>
| REDD Indonesia <
http://redd-indonesia.org/en/
>
| Greenpeace Climate Rescue Blog
<
http://weblog.greenpeace.org/climate/
>
__________________________________________________________________________
2. Indonesian NGO, Centre for Orangutan Protection, Press Release:
ZERO: MINISTRY OF FORESTRY'S ACTION
ON ORANGUTAN PROTECTION
to be released November 12, 2009
Jakarta - Centre for Orangutan Protection (COP). Just when orangutan
supporters around the world are celebrating Orangutan Awareness Week
with bazaars, rallies, exhibitions, and other various events to build
up public supports this week, the very orangutans they support are
being chased and murdered in Kalimantan as direct impact of
deforestation actions to clear the land for oil palm plantations.
"Public awareness has risen fast. Thousands of people have joined
forces as supporters of various organisations of orangutan
conservation. There has been 2,800 people supporters for COP only.
They are sincerely committed to volunteer or donate for COP.
Ironically, efforts to protect orangutans were like headbanging to the
wall. The Ministry of Forestry's action on this important issue is
almost zero. Despite the fact that most steps in the field,
technically, have been carried out and funded by organisations of
orangutan conservation. What was left to be done by the Ministry of
Forestry is just to use their authority to stop the clearing of
orangutans' habitat and to allocate forests to release the
orangutans to the wild," said Hardi Baktiantoro, Orangutan
Campaigner of COP.
Currently, at least 1,200 orangutans are trapped in various
Rehabilitation Centers without any clear future. Surveys on lands to
release them safely have been conducted, but it is almost impossible
to find a safe land due to almost every forest left was sold to
companies. Meanwhile, orangutans become victims everyday due to
continued deforestation. Genocide takes place everyday. And not even
one man has been taken to the Court so far. The Minister of Forestry
is still not doing anything important to fulfill its responsibillity
to stop and prevent the crimes and cruelties in the forest.
The lack of awareness of the Ministry of Forestry has not only
threatened the continuity of the life of orangutans and millions of
Indonesian wild species, but also the life of Dayak tribes in
Kalimantan.
"I came to Jakarta to call for the President of Republic Indonesia,
to make him aware that our forest is almost extinct due to heavy
destruction carried out by PT Nabatindo Karya Utama and PT Windu
Nabatindo Lestari. The forest gives us life. If it is destroyed then
what will we eat? Should we work as labors in the company who takes
the land we used to own?" said Christopel Sahabu, a senior native of
a Dayak tribe from Sampit, Central Kalimantan.
Christopel Sahabu and his family has been cultivating the forest in
Tumbang Koling village, Kotawaringin Timur regency, since 1972. At the
moment, corporations have put up signboards of new path for excavators
to flatten the forest. Orangutans and 11 kinds of rare mammals that
are protected by the Law such as sunbears, macaques, tree tigers and
tarsius, would be massacred within days if the Ministry of Forestry
does not take any measures.
Similar situation also occurs along the Katingan river in Kasongan
regency, Central Kalimantan. The lives of at least 1,500 orangutans
and life source of 5,000 inhabitants of Tumbang Tura, Tumbang Tanjung
and Tumbang Lahang villages are threatened by the expansion of 15 palm
oil companies, including Makin Group and TSH Berhad from Malaysia. In
the vicinity of Gunung Palung National Park in Central Kalimantan, the
Centre for Orangutan Protection had to evacuate orangutans from the
forest destroyed by PT CUS and First Resources Ltd.
Orangutans are one of the wild species protected by the Indonesian
Law. As the only great ape in Asia, orangutans have received
exceptional amount of attention from animal lovers around the world.
Zero awareness of the Ministry of Forestry has pushed the life of
orangutans to irony: they are not protected from the lawbreaking and
the cruelty.
"If this is the best we can do to the closest kin of humans, then
what could we offer to millions of other species?" asked Hardi
Baktiantoro in the street protest with the Dayak indigenous people in
the HI circle of Jakarta. They wore traditional costumes and danced a
war dance.
Further information please contact:
Hardi Baktiantoro
mobile : 0812 11 45 911
email : orangutan@indosat.net.id <mailto:orangutan@indosat.net.id>
Centre for Orangutan Protection acts in the frontlines to stop and
prevent cruelty and crimes against orangutans. We perform
investigation, documentation, exposures and confront the forest
criminals if needed. Visit us at our website: www.cop.or.id
<
http://www.cop.or.id/
>
3.
http://news.mongabay.com/2009/1112-blackwashing.html

Blackwashing by NGOs, greenwashing by corporations, threatens environmental progress

Rhett A. Butler, mongabay.com

November 12, 2009

Competing groups misrepresent facts to the detriment of the wider public.
Misinformation campaigns
by both corporations and environmental groups threaten to undermine
efforts to conserve biodiversity and reduce environmental degradation,
argues a new paper published in the journal Biotropica [PDF].

Growing concerns over climate change and unsustainable resource
extraction have put companies that exploit the environment in the
spotlight. Some firms have responded by taking measures to reduce their
environmental impact. Others have alternatively engaged in
sophisticated marketing campaigns intended to mislead consumers on
their environmental performance, maintaining that
environmentally-destructive practices are instead benign.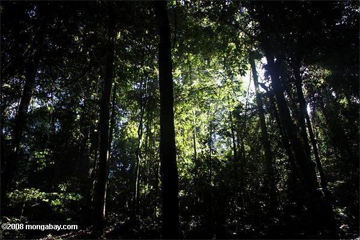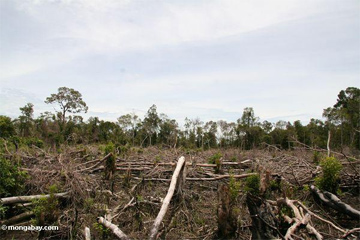 Healthy forest and deforested area in Borneo. The former is suitable orangutan
habitat, the latter (despite claims to the contrary by palm oil marketing groups) is not


At the same time some activist groups have been guilty of exaggerating
claims of environmental misconduct in order to boost support for their
campaigns and therefore their fundraising efforts.

We (I am one of seven co-authors) argue that both approaches
ultimately "hinder conservation outcomes through the erosion of
positive public perception and the creation of consumer apathy."

The current debate over the environmental impact of palm oil is a prime
example. At one extreme, palm oil marketing bodies like the Malaysian
Palm Oil Council (MPOC) and the Indonesian Palm Oil Association (GAPKI)
would have consumers believe that palm oil is a "miracle crop" that
delivers only benefits and no harms (like carbon emissions and
deforestation). At the other, some environmental groups assert that oil
palm expansion will drive the immediate extinction of orangutans (as
soon as 2011), a claim which cannot be substantiated scientifically
(orangutans are indeed threatened by oil palm expansion, among other
practices like logging, but with a wild population exceeding 50,000
they are unlikely to extinct within the next two years).

We argue that it is the responsibility of scientists to critically
assess claims by both sides to ensure that an accurate picture emerges:

The same degree of accountability and transparency demanded from the oil palm industry should also be expected from environmental groups, who are self-declared monitors of the industry. It is in the interest of such groups to invest more caution in verifying their own statements before public distribution. Factually dubious information advanced as truth by activists could provide ammunition for trade groups to dismiss environmental concerns altogether, or for naysayers to dispute their claims (e.g., Lomborg 2001, 2007). Most importantly, such blackwashing could undermine the trust invested by consumers in the certification process for sustainable palm oil specifically and other certified products more generally, and by extension, the environmental and social benefits that could otherwise be achieved...



| | |
| --- | --- |
| | Oil palm plantation and logged-over forest in Borneo. |

The continued growth of the global population and societal wealth ensures that demand for agricultural and industrial products will continue to increase. We cannot conceive of a credible way to meet these demands without large-scale and often intensive agriculture, which is most efficiently and cost-effectively managed by corporations (we do not deny that other models exist, but we judge them to be insufficient to meet global human necessities). Accepting this, corporations and large-scale agricultural estates make a necessary contribution to societal needs, which we must recognize as being the product of our own consumer behavior (including what, how much, and what price of products we choose to consume). At the same time, our concerns for the environment—and, in our case, tropical forests in particular—demand that we balance our needs for consumer products with the environmental degradation this might entail. We need environmental activists to pressure corporations to minimize their environmental impacts. We also need environmental activists to hold companies to account for any mismanagement and misrepresentation, deliberate or otherwise. To a great extent we (as general public) rely on pressure groups to expose malpractices, and it is precisely for this reason that these groups should strive to maintain the highest standards of reporting. Trust in these organizations begins to be undermined when this is not the case...

We need both corporations and environmental groups: we need to convince the former that we will hold them to account, and we need to trust the latter to advance these efforts for us responsibly.
Lian Pin Koh, Jaboury Ghazoul, Rhett A. Butler, William F. Laurance, Navjot S. Sodhi, Javier Mateo-Vega, and Corey J. A. Bradshaw. Wash and Spin Cycle Threats to Tropical Biodiversity [PDF]. BIOTROPICA: 1–5 2009 10.1111/j.1744-7429.2009.00588.x

Comments (4)
This is one of the most well balanced pieces I have yet to read on this issue. Shedding light on both sides of this conflict will hopefully accelerate a resolution between both sides, bringing industries and environmental groups to the table to work out ways to provide the world with its needs in a truly sustainable way.
---
---
---
A most important article. As a long-time campaigner for sustainable palm oil I am frequently frustrated by well-meaning colleagues in the conservation world simplistically resorting to a call to boycott palm oil without taking the time to understand the complexities of the issue. Palm oil is a necessary commodity and is here to stay. Any monoculture by its very nature cannot ever truly be considered sustainable, but we have the power to push for the MOST sustainable production of palm oil over the less sustainable.
I do support Greenpeace's work on this issue as they invest a great deal in investigating and documenting their allegations and have the international presence to draw attention to the worst offenders.
I think for the most part, the serious NGOs participating in this debate HAVE been balanced and have put forth facts and evidence to support their claims, but the media has often picked up on the more sensational messages put out by less diligent NGOs, many of whom blackwash the whole industry. This has the effect of blackwashing those NGOs who are realistically trying to address this issue and seek solutions.
---
---