oke

Global threat to food supply as water wells dry up, warns top environment expert
Lester Brown says grain harvests are already shrinking as US, India and China come close to 'peak water'
Wells are drying up and underwater tables falling so fast in the Middle East and parts of India, China and the US that
food
supplies are seriously threatened, one of the world's leading resource analysts has warned.
In a major new essay
Lester Brown
, head of the
Earth Policy Institute
in Washington, claims that
18 countries, together containing half the world's people, are now overpumping their underground water
tables to the point – known as "peak
water
" – where they are not replenishing and where harvests are getting smaller each year.
The situation is most serious in the Middle East. According to Brown: "Among the countries whose water supply has peaked and begun to decline are Saudi Arabia, Syria, Iraq and Yemen. By 2016
Saudi Arabia projects
it will be importing some 15m tonnes of wheat, rice, corn and barley to feed its population of 30 million people. It is the first country to publicly project how aquifer depletion will shrink its grain harvest.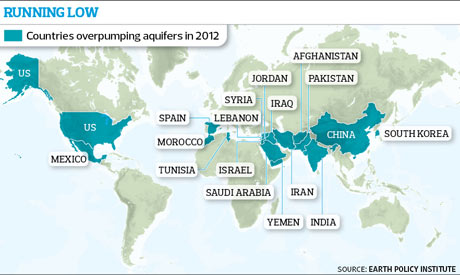 Read more:
http://www.guardian.co.uk/global-development/2013/jul/06/food-supply-threat-water-wells-dry-up
__._,_.___