oke

Message garbled? Display newsletter in browser
Stop the palm oil industry's assault on the Amazon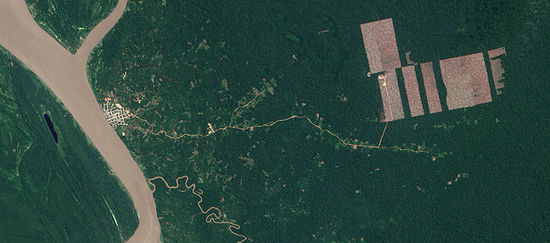 Palm oil companies in Peru are seeking permission to clear 100,000 hectares of rainforest. Picture: NASA
Dear friends of the rainforests,
Environmentalists working in the Amazon rainforest in Peru have written to us to express their deep concern: palm oil companies and international speculators are buying vast tracts of rainforest from the government – even though clearing primary forest is illegal. Around 10,000 hectares of rainforest have already been felled illicitly to make room for oil palm monocultures.
Initially, the Peruvian government ignored protests by local residents. It was not until environmental activists informed the local press and put the illegal activities on the front pages that the authorities responded, sending the police and state prosecutor to investigate.
It has since come to light that plantation owners in Peru have requested permission to clear 100,000 hectares of Amazon rainforest for oil palms. And this appears to be just the beginning – millions of hectares are already being earmarked behind the scenes.
It's not too late, however. Resistance is taking shape, but at great personal risk – environmental activists and the state prosecutor have received death threats. Yet the local residents want to preserve the Amazon rainforest and refuse to be intimidated.
Please help us support them and sign our petition to the Peruvian government to protest the destruction of this unique ecosystem for a sprawling oil palm monoculture.

Thanks for being involved,
Reinhard Behrend
Rainforest Rescue (Rettet den Regenwald e.V.)
__._,_.___