oke

Mozambique: Foreign investment in agri-business but not farming?
Published: 28 Jul 2015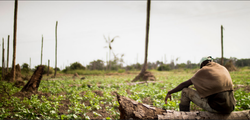 No new plantation has succeeded in Mozambique since independence. No new plantation investment has yet been profitable.
Club of Mozambique | 28 July 2015
Mozambique: Foreign investment in agri-business but not farming?
by Joseph Hanlon
"We know that France is a world power in agro-processing, so we are encouraging the businesses represented here to take note of the need to transfer technology to Mozambique in this area", President Filipe Nyusi told French businesspeople in Paris Sunday 20 July.
"In agriculture, we are banking on increasing production and productivity, so as to create greater competitiveness and more jobs", Nyusi said. "We think there are opportunities upstream, in terms of equipment, improved seeds and fertilizer, and downstream there is potential for agro-processing units, storage and transport to the national and regional markets". He also called for investment in infrastructure and irrigation, and pointed to the way foreign investors could promote exports to the United States and Europe. (AIM Eng & Pt, 20 July)
This could represent an important and subtle change in government policy. Since independence, government has seen foreign investment in large-scale farming as the way forward.
Yet no new plantation has succeeded since independence. No new plantation investment has yet been profitable. Even in sugar, where rehabilitation and expansion of colonial sugar estates has been successful, all the new projects have failed. Instead, growth has come from crops such as tobacco, where small holders grow the crop, and the foreign investor provides inputs and markets.
Does this finally reflect a shift in government thinking, that farming should be left to Mozambicans and that the need for foreign investment is elsewhere in the value chain?
Divisions within government and inside major projects such as ProSavana mean there will probably never be clear, official policy changes, and a change in mood will have to be read from language and what is not said. Thus is it significant that Nyusi did not mention foreign investment in actual farming?
So far, nearly all the failed plantation investments have been on former state farm land, now largely allocated. Agriculture Minister Jose Pacheco has been promoting foreign investment in farming for some years, but he always stresses that investors must satisfy the land law. And it has proved very difficult to assemble thousands of hectares of vacant land, because even if land is not used intensively, it is occupied and thus has an occupier with rights.
Nyusi stressed that Mozambique has 40 million hectares of arable land, but to ensure that agriculture develops in Mozambique, measures must be taken to end the situation in which vast fertile areas are "idle" (ociosas). Nyusi said this has frustrated those who really want to farm and to produce food.
How to interpret that? Does that mean cancelling the existing land concessions to foreign investors and local elites who are not using some large tracts of prime land, as set out in the land law? Or does it mean reinterpreting the land law in ways that restrict small holder access to land that is actually used for crops, and excluding land being kept fallow or for forest products, as some have advocated as a way to release land for foreign investors? Until now government has constantly stressed the amount of land which is "underused" and should be offered to investors.
Pacheco in his statement to parliament again stressed that any investment, foreign or national. must satisfy the land law. All land "belongs" to some person or groups - there is little "free" or unoccupied land, under the present interpretation of "good faith" and "customary practice". Peasant groups know that there is both foreign and national pressure to reinterpret the land law to allow land use rights to be transferred and to reduce land rights to only land used "productively", so as to release land for foreign investors. Pacheco has chosen his words carefully so as not to prevent such changes in interpretation. So peasant fears of a "land grab" will continue.
Source: Joseph Hanlon
__._,_.___